LEDinside: Smart Lighting, Niche Lighting and Lighting in Emerging Countries are Top Three Driving Forces for Global LED Lighting Market Trend
According to the latest report from LEDinside, a division of the market research firm TrendForce, 2018 Light LEDand LED Lighting Market Outlook, LED lighting market scale will achieve USD 32.72 billion in 2018 and will reach USD 33.3 billion in 2019 when lighting that can be replaced enter the period of saturation, while industrial, architectural and landscape, outdoor and special commercial lighting will keep on developing.
According to LEDinside survey on global installed LED lighting market, the quantity of installed LED lightingproducts replacing traditional lights increased rapidly. The LED lighting penetration in 2017 is 22% and it is expected to reach 63% in 2022. CAGR of installed LED lighting products will be 26% during 2017 to 2022. ...More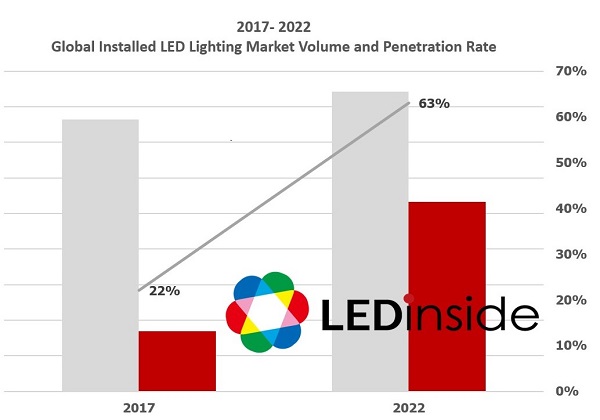 LEDinside: 2017 Stage Lighting, Filament, and OLED Lighting Market Trend
Topic One: Stage Lighting Market, Product, Player Trend
According to LEDinside analysis, the global LED stage lighting market scale sufficiently increased by 14% to USD 745 million in 2017 from USD 655 million in 2016. As the technology of LED lighting gradually takes hold, the price of LED stage lights keeps dropping. The growth of its market scale in the following years will slow down while currently it is continuously growing. By 2020, the estimated market size is likely to surpass USD 1 billion.
The global stage light source market has reached a size of USD 382 million, among which a share of approximately USD 150 million is contributed by LED light sources, with the LED penetration rate at 39%. The market size of traditional stage light source has been shrinking in recent years, while LED light sources surges relatively fast. Therefore, stage lighting market has already become the market attention. LED stage lighting mainly emphasizes the quality of light, heat dissipation, and light distribution. In addition, LED stage lights have several advantages over conventional ones- more efficient, higher color quality, longer lifespans and easier to use. Meanwhile, they also encounter challenges including: higher production cost, less diverse specifications, and inconsistent quality. At present, companies such as OSRAM, Everlight, and Lightning Optoelectronic are gradually launching their stage lighting LED products, including mono-color and multi-color lights, enabling high luminous intensity and efficiency.
Topic Two: Filament Lamp Market Trend
According to LEDinside analysis, in 2016, global LED filament lamp market demand was 150 million pcs. In 2017, the market demand is predicted to hit 300 million pcs, up 100% YoY. As for branding development, LEDinside estimates that LEDVANCE and Philips Lighting are the top two filament lamp branding vendor. Moreover, filament OEM supply majorly comes from Chinese manufacturers. ...More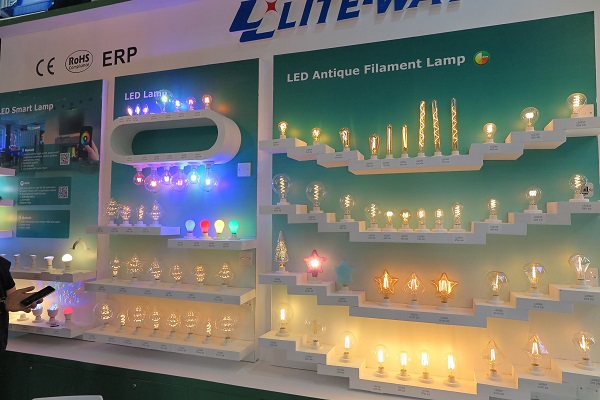 LEDinside: 2017 Horticulture / Livestock / Fishing / Human Centric Lighting Market Analysis
LED horticulture lighting is promising, and the market scale is expected to grow rapidly. The horticulture lighting (system) market in 2017 reaches about USD 690 million, LED lamps accounting for USD 193 million. The horticulture lighting (system) market will increase to USD 1.424 billion, the horticulture lighting LED lamp markets will increase to USD 356 million.
In American market, major lighting manufacturers have accelerated the development of horticulture lighting and industrial lighting, and significant revenue growth is expected to be achieved in 2017, then American market will be accounting for an increased proportion of 35%. ...More
LEDinside:The Global LED Street Light Penetration Rate Will Reach About 65% in 2018,General Commercial Lighting Will Continue to Grow Rapidly
The latest report"2017 LED Street Light and Commercial Lighting Market" from TrendForce LED research center(LEDinside)shows,with the promotion and policy support of all areas for LED street lights, street light replacement cases have rapidly developed. In 2017 the global LED street lighting market value reaches USD 3.30 billion, and Europe and North America still account for the largest regional market. From the perspective of shipments, the compound annual growth rate of global LED street lights is still as high as 20% in 2016~2018. Later, as LED street lights have long lifetime and replacement inventory shrinks, the shipments will slightly decline.
As the penetration rate of LED street lights gradually improves, along with the promotion of smart lighting and smart city, smart street lights are rapidly developing as the best entry point of the smart city. Although smart street lights are at the early development stage, various countries have begun to launch demonstration cases gradually. Most of them are first-tier lighting manufacturers and focus on small demonstration. Due higher costs of smart street lights, the European and American areas with developed economy will grow fastest over the next few years. ...More
Silver Member Report
Global LED Lighting Market Trend- EU / US / JP / CN / VN
High Bay Light, Panel Light, Plant Growth Lighting, Stadium Light, Architectural, Vietnam Lighting Market, Market Outlook
1Q
High Bay Light

2Q
Panel Light / Smart Lighting

3Q
Stadium / Horticulture Lighting /
Architectural Lighting

4Q
Market Status and Outlook
a. Quarterly Regional LED Lighting Market
Quarterly: Macroeconomics, policy and standard, major company's movement, product technology and trend in Japan, the US /Europe, China, and Emerging Market
October: regional lighting market value and market outlook for the next year
LED Lighting Market Development in Europe
LED Lighting Market Development in the US
LED Lighting Market Development in Japan
LED Lighting Market Development in China
LED Lighting Market Development in Emerging Markets
b. LED Price Trend and Analysis
LED Package Price Trend in the Lighting Application Market
2835 (0.2W / 0.5W)
5630 (120~180mA / ≦100mA)
3030 (0.5~0.9W / 1.0~1.3W)
1~3W LED (350mA~1000mA / 350mA~800mA)
1~5W LED (350mA~1500mA)
7070
COB
c. LED Lamp Price Trend And Analysis
LED Lamp Price Tracker in the UK, Germany, the US, Japan, and Korea, Japan, Korea, Taiwan, and China
40 W Equiv. LED Lamp Price
60 W Equiv. LED Lamp Price
Silver+ Member Report
Lighting Market Trend
Global LED Lighting Market Trend- EU / US / JP / CN / VN - High Bay Light, Panel Light, Plant Growth Lighting, Stadium Light, Architectural, Vietnam Lighting Market, Market Outlook
Display and Projection Market Trend - TV, Mobile, HMD- AR v.s. VR, HUD, OLED / QLED / μLED
1Q
Projection (HMD- AR v.s. VR)

2Q
Current TV Trend and Advanced Technology
(OLED, QLED, μLED)

3Q
Projection (HUD- Automotive)

4Q
2019 Outlook
- TV Mobile Branding Shipment
- Backlight LED Market Scale
- Product Specification and Price
- Supply Chain
d. LED Backlight Market Trend And Analysis
October: Backlight market value and market outlook for the next year
LED in Smart Phone Market Development And Analysis
LED in Tablet PC Market Development And Analysis
LED in Notebook Market Development And Analysis
LED in Monitor Market Development And Analysis
LED in TV Market Trend Development Analysis
e. LED Price Trend And Analysis
LED Price Trend And Analysis in TV / Smart Phone / Tablet PC / Notebook / Monitor Application Market
LED Price In Mobile Market
LED Price In Notebook / Tablet PC Market
LED Price in Monitor Market
LED Price In TV Market
For further information about the report, please contact:
Joanne Wu +886-2-8978-6488 ext. 912

LEDinside, another subsidiary of TrendForce, offers research information on LED (light-emitting diode). Moreover, LEDinside also covers the technology development, market trend, and financial information of the LED industry on a global and regional basis. For more about LEDinside, please visit www.ledinside.com