LEDinside Releases 2017 Global Sapphire and LED Chip Market Report in 2017 After Two Years
According to the latest ' 2017 Global Sapphire and LED Chip Market Report by LEDinside, a division of the global market research firm TrendForce, LED chip market value was USD 6,329 million in 2015, while it grew by 3% to USD 6,502 million in 2016. Since the second half of 2016, Chinese LED packaging manufacturers have scaled up rapidly, targeting applications expected to prevail in the market for the next three years, including general lighting, automotive lighting, and display application. That further fosters Tier 1 Chinese LED chip manufacturers to volume up their productivity.
The Capacity Expansion of Chinese LED Chip Manufacturers Reshuffles 2017's Productivity Ranking
LEDinside estimates MOCVD equipment (Equiv. K465i) will reach 322 sets in 2017, contributed mainly from China and Malaysia. The market dynamic showed Chinese LED chip manufacturers, including San'an Opto, HC SemiTek, Aucksun, and even IRICO Epilight plan to expand production capacity. Some manufacturers have added equipment into plans since 2H16. It is estimated that in 2017 the total shipments of MOCVD in China will reach 231 sets. Some of the old machines will be phased out of the market, yet in general, China is still the market that will encounter the largest scale of productivity surge, expected to take up to over 50% of the global LED chip manufacturing productivity in 2017.
As for the dynamics in other regions, Osram will complete the construction of its fab in Malaysia by 2017, and the design capacity is expected to volume up after the introduction of manufacturing equipment.
The Capacity Expansion Boosts The Demand for PSS in Chinese Chip Market
In 2016, global LED epi wafer capacity reached TIE 78.4 million pieces and it's estimated that LED epi wafer capacity will be 114.7 million pieces by 2020. Judging by regions, China is the largest LED epi wafer production base, with 4-inch epi wafer as the major. As Chinese chip manufacturers are still demanding for patterned sapphire substrates, Chinese PSS suppliers volumed up their output on a large scale. The top five Chinese PSS suppliers in 2017 will be reshuffled to be Sinopatt, Jing'An, Rigidtech, ECEC, and Crystal-Optech, of which the production cost control and techniques for yield rate improvement outperform the PSS manufacturers in other regions....More
LEDinside:Weaker LED Demands Drives Down Sapphire Prices More than 30% YoY
Weak demand prompts vertical integration efforts along the 4-inch sapphire supply chain Price fluctuations in the 4-inch sapphire market are mainly caused by the demand changes in the LED market. Though the 4-inch wafer production has become the market mainstream, their prices are negatively affected by the lower-than-anticipated demand and price pressure in the end market. Thus, prices of 4-inch sapphire ingots have plummeted with the year-on-year decline in September reaching 45% at around US$8.5~8.8/mm. Both the 4-inch sapphire wafer and PSS markets have seen a 30% year-on-year price drop in the same month, with their average prices respectively at US$18~20.5/pc and US$30~32/pc....More
LEDinside:LED Chip Market Sees Oversupply as China Accounts for 47% of Global MOCVD Capacity
Due to government support and fundraising in the stock market during recent years, Chinese LED chip manufacturers are able to expand their capacities to the point of creating a supply glut. Therefore, the strength of these enterprises cannot be judged by past records. San'an Opto, the largest Chinese LED chip manufacture, is a prime example. In the past few years, local governments in China have been providing San'an Opto subsidies that have made up 10~14% of the company's annual revenues. Moreover, San'an Opto's market value has been rising sharply since 2014, and this in turn has attracted more and bigger investments. In the overall competition, Chinese LED companies have fewer patents and smaller customer base than their global competitors, but they have significant strength as they are backed by a continuing stream of investments. Taiwanese LED companies by contrast have seen their market values falling followed by exodus of their talents and fundraising challenges. Consequently, they resort to layoffs and unpaid furloughs as means to reduce cash outflows....More
LEDinside: Global LED Chips External Sales Market Value Reached US$4.35 B in 2014
The global market value from the external sales of LED chips grew 18% from US$3.677 billion in 2013 to US$4.35 billion in 2014, according to the 2015 Global Sapphire and LED Chip Market Report by LEDinside, a division of TrendForce. The share of Chinese companies in the external sales market also rose from 27% in 2013 to 36% in 2014.
"LED chip manufacturers benefitted from the lighting market's demands and saw their revenues soared in 2014," said Joanne Wu, assistant research manager for LEDinside.
Epistar led in the external sales revenue of LED chips for both 2013 and 2014 due to its technological advantages and stability in customer management. Epistar's rival San'an Opto increased its MOCVD equipment capacity during 2013~2014 as well as exploiting the lowering price trend in the Chinese lighting market. San'an Opto therefore took second place in 2014 with its revenue reaching US$565 million. Owing to their capacity expansion efforts, China-based manufacturers ETi and TongFang entered the list of top 10 LED chip manufacturers in 2014, respectively taking $161 million and US$145 million in LED chip revenue.… More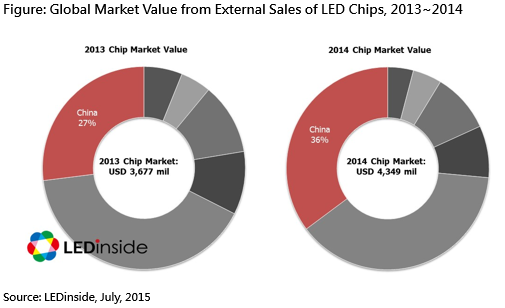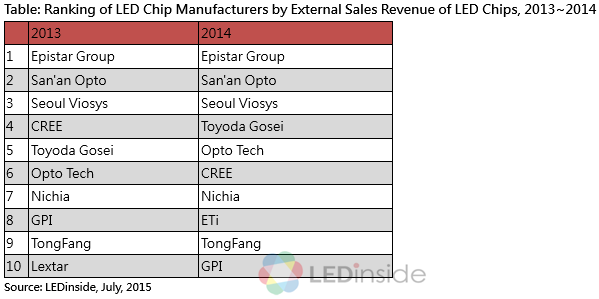 LEDinside: Sapphire Substrate Manufacturers Market Strategies as Chinese LED Market Demands Soar
In regards to sapphire substrate market value in the LED application sector, China has grown substantially from 8 percent global market share in 2010 to 24 percent in 2014, according to data compiled by LEDinside. LEDinside projects future sapphire substrate demands for LED application will majorly come from China. Therefore, China is estimated to make up 33 percent of LED sapphire substrate market value by 2016. Consequently, global sapphire substrate manufacturers are quickly deploying business strategies in the Chinese market as demands in the China market take off, and import tariffs are taken into consideration....More
LEDinside 2017 Global Sapphire and LED Chip Market Report
Language: Chinese / English
Release: 08 December 2016
Page: 180
Format : PDF

Chapter I Advanced Technology in Sapphire Industry

1.1 Mainstream Sapphire Ingot Technology
1.2 Mainstream Sapphire Wafer Technology
1.3 Mainstream Pattern Sapphire Substrate Technology

Chapter II Global Sapphire Equipment

2.1 Sapphire Ingot Furnace
2.2 Overview of Sapphire Sawing, Lapping, Grinding and Polishing Machine, Chamfering Machine, Printing, and Coating Machine
2.3 PSS Equipment

Chapter III Supply-Side Analysis of Global Sapphire Industry

3.1 Sapphire Ingot Manufacturer Capacity and Market Value Analysis
3.2 Sapphire Wafer Manufacturer Capacity and Market Value Analysis
3.3 Pattern Sapphire Substrate Manufacturer Capacity and Market Value Analysis
3.4 Major Sapphire Manufacturer's Business Performance and Market Development
3.5 Sapphire Industry Development Strategies
3.6 Sapphire Substrate Industry Sufficiency- Supply and Demand

Chapter IV Global Sapphire Market Price Trend

Sapphire Ingot Market Price
2" Sapphire Wafer and PSS Market Price
4" Sapphire Wafer and PSS Market Price
6" Sapphire Wafer and PSS Market Price

Chapter V Sapphire Market Demand in LED Industry

5.1 LED Market Outlook and Perspective
5.2 MOCVD Installation Volume Forecast and LED Epi Wafer Market Trend
5.3 LED Chip Manufacturer Revenue Ranking and Capacity Estimates
5.4 Major LED Chip Manufacturer Profile
5.5 Chip House PSS Introduction Rate and PSS in-house Production Rate
5.6 Chip Manufacturers' Sapphire Substrate and PSS Supply Chain
5.7 Cost Analysis of Sapphire Substrate in LED Chip
5.8 Pros and Cons on Four-inch and Six-inch Wafer Production
5.9 Alternative Materials in LED Application Market

Chapter VI Sapphire Market Trend in Mobile Device Industry

6.1 Sapphire Requirement in Mobile Device Applications
6.2 Major Suppliers and Supply Chain Development
6.3 Sapphire Market Perspective in Applications
For further information about the report, please contact:
Joanne Wu +886-2-77026888 ext. 972

LEDinside, another subsidiary of TrendForce, offers research information on LED (light-emitting diode). Moreover, LEDinside also covers the technology development, market trend, and financial information of the LED industry on a global and regional basis. For more about LEDinside, please visit www.ledinside.com