LEDinside 2019 Global Automotive LED Market Report- Passenger Car and Box Truck
According to LEDinside's latest report-2019 Global Automotive LED Market Report- Passenger Car and Box Truck, in 2018, global trade frictions and economic recession had a negative impact on the development of vehicle market, leading to a decline in annual vehicle sales. In 2019 , although the instability of global economic condition still continues, sales volume of new energy vehicles still shows rapid growth, and is expected to be the major driving force of total vehicle sales in the future.
In terms of regional market development, sales growth of vehicles in some emerging markets, such as Brazil, India and parts of Southeast Asia, has maintained high speed due to the rise of domestic demand. Vehicle sales in these regions grew by more than 10% YoY in 2018 and are expected to maintain rapid growth in 2019.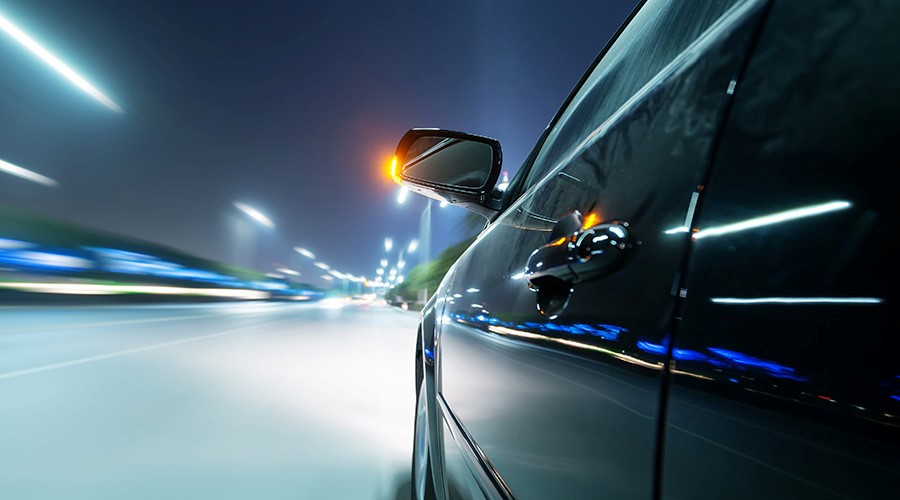 Global vehicle market is experiencing downturn, but automotive LED market scale is still expected to grow
According to LEDinside analyst Terri Wang, although vehicle market in 2018-2019 is experiencing downturn, LED penetration rate has increased continuously. Besides, new energy vehicles have higher energy-saving demand, hence the demand for LED automotive lighting is higher than traditional vehicles. Thus, automotive LED market value and volume will continue to grow in the next few years. According to LEDinside research, global automotive LED value is expected to reach US$ 4.21 billion in 2023.
As for automotive LED value and penetration rate in major regions, considering relative laws and regulations and market demand, currently European market has the highest LED market value and penetration rate among major regions worldwide. Comparatively, the US market performs more conservative. Japanese market demonstrates the second highest penetration rate but its market value is lower than that of China and the US due to relatively less population and lower automobile sales. Besides, Chinese market sees rapid growth in market value and penetration rate of some specific products.
Leading LED manufacturers in Europe and the US showed downtrend in revenues, while Japanese LED players took more market share

Due to the impact of US-China trade conflict, automotive LED manufacturers such as OSRAM Opto Semiconductors and Lumileds remained stable or showed small decline in 2018. However, due to the growth of Japanese vehicle market in 2018, revenues of Japanese players such as Nichia and Stanley went up. Meanwhile, it can be observed that besides the international top players, many second-tier manufacturers have vigorously developed OE market and collaborated with automakers to develop headlamp. As product technology improves and automotive lighting relies more on the reliability and design features of light source, the monopoly in automotive LED market is expected to be broken.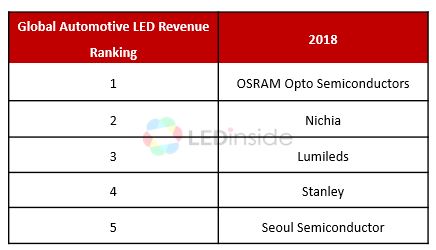 In terms of automotive lighting players, globally, automotive lighting industry concentration rate is quite high, with top five players taking up over 70% market share. In recent years, global giants have stepped into the stage of oversea expansion and integrated reorganization in succession, with a marked specialization trend. Additionally, as LED penetration rate increases in recent years, the profit ratio of automotive lighting companies is still in an uptrend continually despite the dismal vehicle market situation.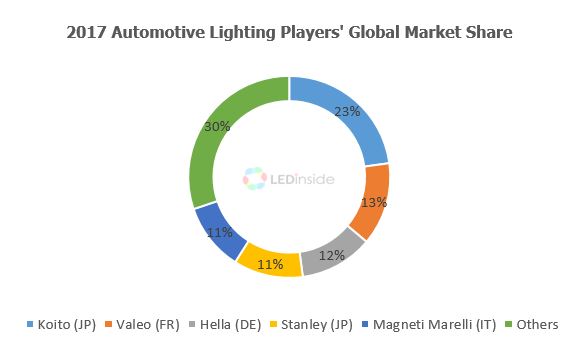 LEDs used in head lamp, direction lamp and panel show the strongest growth momentum, while ambient light becomes popular in high-end market

In regard to exterior products, high-power chip price is going down, while its market share gradually increasing. Besides, headlamp LED products tend to be more diverse. Major international manufacturers have successively launched single- or two-chip LEDs for low beam. As LED develops in the direction of miniaturization, headlamp has enjoyed more flexible designs, developing from a functional product to an intelligent system, or even combined with projection function. Hence, the market value and penetration rate of headlamp LED will continue to grow in the next few years. In addition, because of the adoption of sequential direction lamp, LED penetration rate and market value for direction lamp will also increase quickly.
Automotive Headlamp Development Trend


With respect to interior products, with the rise of capacity of automotive panel manufacturers, the price–performance ratio of panel products has increased quickly. Panel has become a product that can improve the specification of vehicle under a limited cost. Therefore, the size of panel and the number of installation have grown, and LED demand has increased. In addition, due to the current trend of intelligent lighting, some manufacturers have released built-in driver IC RGB LED for automotive ambient lighting in order to achieve full color blending and dynamic situation effect. Yet, owing to high cost, its application is mostly seen in high-priced vehicles in OE market.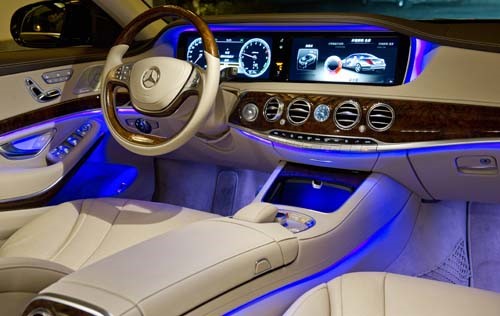 LEDinside 2019 Global Automotive LED Market Report-Passenger Car and Box Truck
Release Date:
Excel May 31 and November 30, 2019
PDF May 31, 2019
Languages: Traditional Chinese / English


Chapter I. Automotive Lighting Market Trend Analysis

1.1 Automotive Exterior Lighting Products Design and Trend

Headlamp
Tail Light
Direction Light

1.2 Automotive Interior Lighting Products Design and Trend

Ambient Light
Cluster
Central Information Display
Infotainment Display
Head Up Display
Electric Mirror Lamp

Chapter II. Global Automotive Lamp Players

Global Top 10 & China Top 5 Players
Revenues in 2017 & 2018
2017 Automotive Lighting Revenue
Revenue Distribution
Country / Production Base
Main Lamp Products
LED Purchasing Decision Power

Chapter III. Global Automotive LED Manufacturer Strategies

Global Top 10 Players
Global Automotive Revenue in 2017 / 2018
Production Base
Major Automotive Product
Exterior/Interior Proportion
Market Development Strategies
Revenue Performance of Other LED
Manufacturers in 2018
Customized Report / Consulting Service
For further information about the report, please contact:

LEDinside, another subsidiary of TrendForce, offers research information on LED (light-emitting diode). Moreover, LEDinside also covers the technology development, market trend, and financial information of the LED industry on a global and regional basis. For more about LEDinside, please visit www.ledinside.com